WE ARE BUSY COLLECTING 2018 ITEMS, BUT CHECK OUT LAST YEAR'S SILENT AUCTION ITEMS:
Silent Auction 2017
ITEM #1
PEARL JAM BASKET
(VALUE: $1,000)
Contents include:
Pearl Jam autographed, framed poster, 2014, Vienna, AUSTRIA
6 Pearl Jam t-shirts
1 Pearl Jam sweatshirt
1 Pearl Jam scarf
1 Pearl Jam vs Ames Brothers book
1 Ames Brothers poster
1 Pearl Jam 20 DVD
1 Pearl Jam: Live at the Showbox DVD
1 deck of Ten Club playing cards
1 Pearl Jam key chain
1 Pearl Jam baseball hat
1 Peal Jam flip-flops
1 Pearl Jam tote bag
6 Pearl Jam stickers
ITEM #2
Donated by Citizen, Inc Design & Technology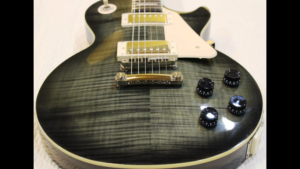 The Epiphone Les Paul Ultra-III
The gearhead's dream guitar. You get traditional electronics and pickups, plus a slew of jaw-dropping extras. A Shadow NanoMAG pickup gives you big, full acoustic tones, and a USB output lets you record directly to your favorite DAW. The Les Paul Ultra-III features a chambered mahogany body, a flame maple top, a mahogany set neck, a rosewood fretboard with trapezoid inlays, classy binding, and chrome hardware. Add ProBucker-2 and ProBucker-3 pickups, and you have a killer tone machine that looks amazing and sounds great with the Les Paul Ultra-III!
Specs:
Body material: Mahogany; strategically chambered,
comfortable back belly-scarf
Top material: AAA flame maple veneer
Neck material: Mahogany
Neck shape: SlimTaper; D profile
Neck joint: Glued-In; Mortise and Tenon
Fingerboard material: Rosewood with mother-of-pearl trapezoid inlays
Truss rod: Adjustable
Neck pickup: Epiphone ProBucker-2
Bridge pickup: Epiphone ProBucker-3
Fingerboard pickup: Shadow NanoMag humbucking low-impedance pickup
Front controls: 3-way pickup selector, neck pickup volume control, bridge pickup volume control, NanoMag pickup volume with push-push A/B switch, master tone
A/B LED Indicators
Back Controls: NanoMag Gain, NanoMag Treble EQ, NanoMag Bass EQ
Chromatic Tuner: On/Off Switch, A-G LED note Indicators, # LED indicator, High Pitch, Low Pitch, In-Tune LED indicators
Outputs: 1/4″ Mono (both signals blended), 1/4″ Stereo, USB (Computer supplies power to Ultra-III when connected)
Power: 9 Volt battery (except when connected to computer USB)
Binding: Fingerboard – 1 ply (cream), Body – 1 ply (cream)
Frets: 22 medium-jumbo
Bridge: LockTone Tune-o-matic/Stopbar
Hardware: Nickel
Machine heads: Grover 16:1 Tuners
Strings: Gibson Brite Wires 10-46
9 Volt battery
Trussrod Wrench
(Value $1,000)
ITEM #3
Donated by Ride Roslyn: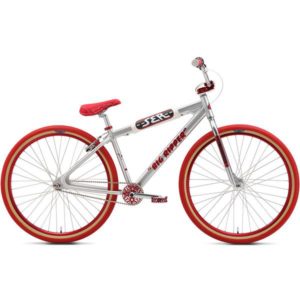 SE Big Ripper 29 BMX Bike
With its 29″ wheels and monster-sized PK Ripper inspired frame, the Big Ripper is the biggest and baddest BMX bike in the world. Throw in the new SE Racing Bear Trap pedals, Big Honkin'  cruiser bars, Cowboy Cut forks, and Vee Tire Co x SE Racing Speedster tires, and it"s obvious that this could very well be the bike of the year.
Key Features of SE Big Ripper 29 BMX Bike:
Frame: 6061 Aluminum Floval Tubing, Looptail Rear End, Retro Dropouts
Fork: Cowboy Cut Landing Gear, Full Cr-Mo
Crankset: SE 3-pc Cr-Mo, Closed-End Reinforced Invisibolt Cranks, 175mm Sealed Euro Bottom Bracket, 33T Alloy SE Racing Sprocket
Pedals: SE Racing Bear Traps
Chain: KMC Z410A
Wheelset: Sealed Bearing 36H High-Flange Alloy Hubs w/ Double-wall Rims, ACS Crossfire 15T Freewheel, Stainless Spokes, Frame Protector Alloy Washers
Tires: Vee Tire Co x SE Racing Speedster, 29″ x 2.10″ Front & Rear
Brakeset: Tektro 837-AL V-Brake, Slick Cable
Brake Levers: Tektro 316A, 2-Finger Alloy
Headset: Tange 1-1/8″ Threadless
Handlebar: Cr-Mo Big Honkin" Cruiser Bar, 29″ x 6″
Stem: Retro Alloy Top-Load w/ Engraved SE Logo & Lightweight Cutouts, 55mm Reach
Grips: Special Edition ODI Mushroom II Dual-Ply Grips w/ SE Donuts, Made in the USA
Saddle: SE Flyer Seat
Seat Post: Retro Fluted Micro-Adjust Alloy, 27.2mm
Weight: 29.6 lbs / 13.42 kgs
2017 Model
(VALUE: $1000)
ITEM #4
TWO TICKETS TO COLDPLAY CONCERT AT CENTURY LINK FIELD ON SEPTEMBER 23, 2017
DONOR: COLDPLAY
(VALUE: $500)
ITEM #5
HEAVY METAL MERCH FOR THE WHOLE FAMILY!
DONOR: TED MATTES
(VALUE: $500)
Contents include:
2 XL Slayer t-shirts
2 XL Motorhead t-shirts
1 XL Anthrax t-shirt
1 XL Iron Maiden t-shirt
1 L Ghost sweatshirt
2 L Motorhead t-shirts
2 L Slayer t-shirts
1 L Slash t-shirt
1 L Hollywood Vampires t-shirt
1 M Iron Maiden sweatshirt
2 M Slayer t-shirts
1 M Motorhead t-shirt
1 M Iron Maiden t-shirt
1 M Mastadon t-shirt
1 M Zombie t-shirt
1 S Iron Maiden t-shirt
1 S Slayer t-shirt
1 M women's Slayer t-shirt
1 M women's Five Finger Death Punch t-shirt
ITEMS #6 & 7
HANDBLOWN GLASS VASE BY DEHANNA JONES
DONOR: TOTALLY BLOWN GLASSWORKS
(VALUE: $467.50 each) Totally Blown Glassworks
ITEM #8
SOUNDGARDEN/CHRIS CORNELL BASKET
DONOR: SOUNDGARDEN
(VALUE: $300)
Contents include:
Chris Cornell autographed Audioslave CD
1 Soundgarden 2014 tour poster, Lollapalooza, Santiago, CHILE
1 Soundgarden 2012 tour poster, Le Zenith, Paris, FRANCE
1 Soundgarden 2013 tour poster, Borgata, Atlantic City, NJ
1 Soundgarden Badmotorfinger CD
1 Soundgarden Down on the Upside CD
1 Soundgarden Telephantasm CD
1 Soundgarden King Animal CD
ITEM #9
AUTOGRAPHED, FRAMED BLINK-182 POSTER
DONOR: TSURT
(VALUE: $300)
ITEM #10
TWO ADMISSIONS TO TEATRO ZINZANNI
DONOR: TEATRO ZINZANNI
(VALUE: $233)
ITEM #11
FREE 2-HOUR GARDEN CONSULATION WITH FIRECRACKER, LLC
DONOR: FIRECRACKER. LLC
(VALUE: $200)
ITEM #12
$200 GIFT CERTIFICATE TO VITO'S
DONOR: VITO'S
(VALUE: $200)
ITEM #13
TWO VIP PARAMOUNT CLUB SEATS TO SARAH SILVERMAN ON FEBRUARY 7, 2017
DONOR: SEATTLE THEATRE GROUP
(VALUE: $178)
ITEM #14
SUB POP GIFT BAG
DONOR: SUB POP
(VALUE: $175)
Contents include:
1 Nirvana Bleach Deluxe vinyl LP
1 Mudhoney Superfuzz vinyl LP
1 TAD 8 Way Santa vinyl LP
1 Clipping Splendor & Misery vinyl LP
1 LVL UP Return to Love vinyl LP
1 Morgan Delt Phase Zero vinyl LP
1 Loser shot glass
1 Sub Pop tote bag
1 Sub Pop t-shirt
1 Sub Pop 45 adaptor set of 3
1 Sub Pop patch
1 Sub Pop sticker
ITEM #15
60-MINUTE FACIAL WITH EYE TREATMENT AT SPRUCE SALON & SPA
DONOR: SPRUCE SALON & SPA
(VALUE: $130)
ITEM #16
BROWNE FAMILY VINEYARDS WINE PACKAGE
DONOR: PRECEPT WINE
(VALUE: $130)
Contents include:
1 bottle 2015 Chardonnay
1 bottle 2014 Cabernet Franc
1 bottle 2014 Cabernet Sauvignon
1 bottle 2013 Merlot
ITEM #17
STARBUCKS GIFT BASKET
DONOR: STARBUCKS
(VALUE: $125)
Contents include:
1 lb. Casi Cielo coffee beans
1 lb. Organic Yukon coffee beans
2 ceramic travel mugs
$25 Gift Card
Pour-Over
Coffee Scoop
ITEM #18
EMPEROR'S PACKAGE FOR TWO AT BIZARRO ITALIAN CAFÉ
DONOR: BIZARRO ITALIAN CAFÉ
(VALUE: $125)
ITEM #19
ONE COMPLIMENTARY RACE REGISTRATION FOR THE SEATTLE ROCK 'N' ROLL MARATHON
DONOR: SEATTLE ROCK 'N' ROLL MARATHON
(VALUE: $104)
ITEM #20
$100 GIFT CERTIFICATE TO CAFÉ CAMPAGNE
DONOR: CAFÉ CAMPAGNE
(VALUE: $100)
ITEM #21
SALON SERVICES AT COVEN SALON WITH STYLIST JENNY SLAY
DONOR: COVEN SALON
(VALUE: $100)
ITEM #22
$100 GIFT CERTIFICATE TO TAVOLATA BELLTOWN
DONOR: ETHAN STOWELL RESTAURANTS
(VALUE: $100)
ITEM #23
BOTTLE OF LEONETTI 2007 CABERNET SAUVIGNON
DONOR: BRAD SMITH
(VALUE: $95)
ITEM #24
BOTTLE OF FIGGINS 2013 ESTATE RED
DONOR: BRAD SMITH
(VALUE: $95)
WOW!